St. Anne and St. Joachim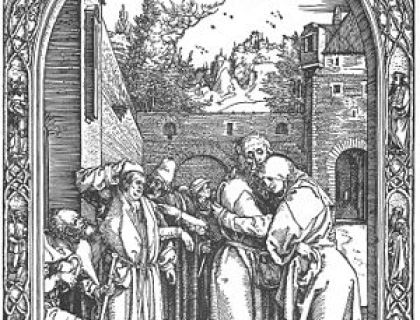 On 1/6/2015 3:05 PM, Joachim Frank wrote:
.
All I know about St. Anne is St. Ann's Warehouse, now moving into the old Tobacco factory in the DUMBO area. And St. Joachim, purported violator of St. Ann's virginity, is far from my mind indeed. (Though I wouldn't mind having a powerful son-in-law. And I don't mean Joseph)
–Joachim.
On 1/6/2015 12:16 PM, Ellen Conley wrote:
.
Joachim, you must have been busy.
The subject of Joachim and Anne The Meeting at the Golden Gate was a regular component of artistic cycles of the Life of the Virgin. The couple meet at the Golden Gate of Jerusalem and embrace. They are aware of Anne's pregnancy, of which they have been separately informed by an archangel. This moment stood for the conception of Mary, and the feast was celebrated on the same day as the Immaculate Conception.
Both Mary and Ann were immaculate conceptions, as I viewed my own.
.
.
.
.
[Ellen is part of my writers circle. In the past meeting she read something about Anne and Mary that few people understood. After that meeting, there was this clarifying exchange of e-mails]