Cowbird — Magic Weekend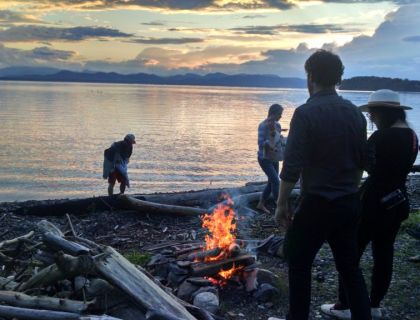 .
Cowbird, Jonathan Harris' website dedicated to the narration of stories of life, ceased to exist at the end of March after running for 5 years.  I tremendously enjoyed contributing to it and interacting with people while it lasted.  The reason was that I've always looked for a way to express myself in a way that bounced off image and text to each other.  I composed more than 200 stories — inconsequential but many of these expressing something deeply felt.
Jonathan invited his flock to  his family's estate, in Shelbourne, Vermont right on Lake Champlain.  Thirty people showed up, most strangers to each other, creating an interesting dynamic.
The beauty of the place is breathtaking. Just sitting somewhere, watching the clouds unfold and the surface of the lake to change hue.
Without forewarning, we walked into a story of a family torn up by alcoholism, a story Jonathan is trying to fight with rituals to heal after his mother passed away recently.