Athena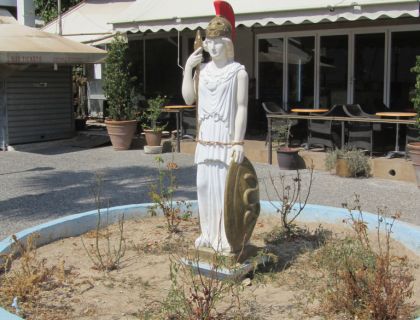 Athena on the public plaza in Ag. Marina, island of Aegina. A fitting image.
Ag. Marina, on the side of the island opposite to the city of Aegina, is the most dilapidated place I found on my recent trip to Greece. It is entirely built in concrete for the tourist industry, the hill a terrace stacked with hotels and restaurants, all fun beaten out of the beaches and the natural environment. And the economy has taken a toll, many bars and restaurants empty, half-finished constructions, signs pointing to nowhere.
The city of Aegina itself, where the ferries land, has escaped from this onslaught of concrete, and still has a measured, dignified appearance. The weekend I was there was the time of the annual Pistachio Festival. Aegina's culture goes back to 2500 years BC, at the time of the Minoan rule.