A Very Stable Genius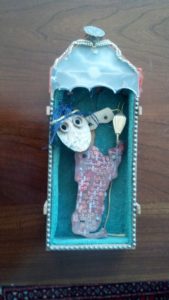 Long time ago I used to make little boxes and panorariums, like works by Joseph Cornell.  Some have survived the many moves, but barely.
Everything has become shaky and unreliable. It is astounding that the head is still in place.  I'm sure the circuit board no longer works.
It's a curiosity, really, but I haven't decided yet if I should get rid of it altogether.
.